Vote Progressive to Restrain Fear-Driven Vigilantism
On December 4 2007, Steve Inskeep of NPR News asked the Democratic presidential candidates whether they, if elected, would encourage American citizens to ferret out and turn in illegal immigrants to law enforcement authorities. Representative Dennis Kucinich of Ohio answered the question by evoking the Americanism of Emma Lazarus:
Rely on the Constitution. You know, we don't encourage vigilantism in this country. We have a Constitution, we have due process, we have equal protection, we have habeas corpus. This administration, as — like — you know, would like to shred the Constitution and deny people all those rights. But when we get into that, what we do, we take the path of denying constitutional rights, and we're back to Abu Ghraib and Guantanamo and all those other violations of rights that we're ashamed of now. And I'm saying that we have to realize that these are economic refugees from NAFTA. You know, I've said it over and over. Cancel NAFTA. Negotiate a new trade agreement with Mexico based on workers rights, human rights, environmental quality principles. Give a path to legalization for the people who have been here. You can't send them home willy-nilly. You have to have a way in which our immigration policy resonates with the deeper principles of inclusiveness in America, as symbolized by our Statue of Liberty.
Senator Barack Obama of Illinois also responded to the question:
We're not going to deputize a whole bunch of American citizens to start grabbing people or turning them in, the — in part because the ordinary American citizen may not know whether or not this person is illegal or not. Now, we do — we should be holding employers accountable, because they have a mechanism whereby they can actually enforce. But you know, the notion that we're going to criminalize priests, for example, or doctors who are providing services to individuals and throw them in jail for doing what their calling asks them to do, which is to provide help and service to people in need, I think that is a mistake. I think that's out of America's character.
And Senator Hillary Rodham Clinton of New York agreed:
Well, I agree with what Barack... and Dennis have already said. It's the failure of the federal government that puts people like Amy into this position. I do not think we should be criminalizing her or expecting her to enforce the broken laws of our federal immigration system. In fact, I spoke out very strongly against an effort that was undertaken in the House of Representatives to do just that, to basically say anyone who offered aid, comfort or any kind of service to someone in need who turned out to be an illegal immigrant was going to face criminal penalties. That is not in keeping with who we are as Americans. What is in keeping is having a government fulfill its responsibilities... what we're looking at here is 12 to 14 million people. They live in our neighborhoods. They take care of our elderly parents. They probably made the beds in the hotels that some of us stayed in last night. They are embedded in our society. If we want to listen to the demagogues and the calls for us to begin to try to round up people and turn every American into a suspicious vigilante, I think we will do graver harm to the fabric of our nation than any kind of, you know, person by person reporting of someone who might be here illegally. I reject that. I think again you have to look at the failure of the federal government and the failure of our political system to make a change in how we should be enforcing our immigration laws. And that's what I will try to do.
There are some politicians who want to approach the problems surrounding immigration through harsh punishments, which is not too surprising, since they are the same people who seem to relish devising new policies of punishment in a variety of areas. In their rush to punish people, they're raising calls of fear that tap into people's fears about different cultures, different languages and different colors of skin. Having whipped citizens up into a fearful frenzy, the demagoguing politicians then want to turn citizens into posses with the responsibility of identifying illegals and dragging them to the sheriff. When you whip people up based into unreasonably bigoted frenzies of fear, then unleash them as vigilantes, they'll strike out based on fear, causing more harm than they solve. Thanks to Representative Kucinich, Senator Obama and Senator Clinton for resisting the calls to turn America into a Posse Nation, and for instead appealing to a more calm, reasoned and humane spirit. (Source: NPR Presidential Debate of December 4 2007)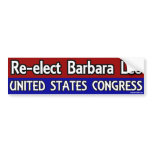 Re-Elect Barbara Lee to Congress



Hillary Clinton for President of the United States of America! Show your patriotic progressive stripes with this pro-Clinton lawn sign in the theme of a flag and made proudly in the USA.



Gardening is a hobby of growth, not of destruction. Join the growing movement of gardeners for peace with this positive anti-war bumper sticker.



Red Slash Through a GOP Republican Elephant (Button)



Idaho votes against the re-election of Republican Congressman Mike Simpson this year because Representative Simpson has become too extreme, out of touch with Idaho.



Yes, I know. Well behaved women seldom make history. I agree with that, but the opposite is true too. Well behaved histories seldom make women, sayeth the bumper sticker.



My Wife and Daughter Died from Swine Flu... and all I got was this Lousy T-Shirt! A bit of dark humor for these frightening times. (Swine Flu T-Shirt)


Most members of the Democratic Party in America are pretty disappointing, aren't they? It's about time we elected some Kick-Ass Democrats!

Getcher Homeland Security T-Shirts right here, you betcha.