Tom Tancredo Coddles Criminals
Congressman Tom Tancredo has a habit of being bizarre. A couple of years ago, he latched onto a kooky conspiracy theory peddled by Paul Williams that claimed that Al Quaida had sent between twenty and fifty suitcase-sized nuclear bombs that were already sitting in major American cities, and were poised to be detonated at any moment - by the end of 2005 at the latest. Tancredo went around the country predicting certain doom, and then… it all turned out to be nothing more than paranoid ramblings.
Last year, Tom Tancredo did his nuclear paranoia act one better, and indulged in the racist fantasies of neo-confederates when he attended and spoke to a meeting sponsored by the pro-secession League of the South. The League of the South and its red shirts want to bring the American South back to the way things were before the Civil War, and there was Tom Tancredo at their meeting in South Carolina, speaking at a lectern draped with the Confederate Battle Flag after the gathering sung Dixie.
Now Tom Tancredo is running for President, so you know he has to follow up his past right wing antics with some new act of backsliding buffoonery. What's Tom up to this time?
Coddling criminals, of course.
No kidding. Tom Tancredo is coddling criminals.
As part of this campaign for President of the United States, Congressman Tancredo is calling for legal amnesty for two convicted criminals who shot a man from behind while he was running away. Representative Tancredo wants these cowards, Ignacio Compean and Jose Ramos, to receive a pardon. Tancredo does not deny that these men are guilty of assault with a deadly weapon, but he has written a campaign letter saying that they ought to be released from prison. That same letter asks people for donations - for Tancredo's presidential campaign exploratory committee.
That gives me an idea of for a slogan for the Tom Tancredo for President campaign: Do It For The Criminals: Vote Tancredo for President!

"The town of Carrboro has got room for people of all shapes, sizes and stripes. Carrboro has room for hopes and dreams. But, by golly, Carrboro just doesn't have room for hate. Bigotry is too angular and bulky to fit within.

This and every shirt we sell through Skreened is made ethically and sweatshop-free by American Apparel.

Design by Irregular Times, the place for news that simply refuses to fit."



Help send Sarah Palin back to Alaska with this anti-Palin campaign button. She's not ready to be Vice President, and her extremist values are out of touch with America.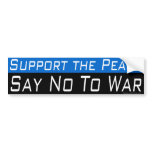 Support the Peace



Santa Fe Liberal (bumper sticker)