Patriots Shift Against Obama, Even When Progressive
It wasn't too long ago that Barack Obama was seen as a beacon of hope for progressive Americans weary of years of attacks against constitutional rights by George W. Bush and the Republican Party. Many sincerely believed that, as President, Barack Obama would bring real change, and reverse the terrible authoritarian agenda created by Bush and his Republican followers under the paranoid umbrella of Homeland Security.

Alas, that's not how the Obama presidency has actually developed. To the dismay of the people who worked hardest to get Barack Obama elected to the White House, Obama has worked to continue George W. Bush's most outrageous policies, rather than ending them.

It started out with Obama's decision to have the homophobe and religious bigot Rick Warren given a place of special honor at the inauguration. From there, it's all been downhill. President Obama has developed an MO of promising progressive change in his speeches, and then actually doing the opposite in reality.

Recently, articles at Progressives Against Obama have criticized Obama for supporting torture, keeping Big Brother electronic spying programs against American citizens, upholding Bush Administration anti-environment policies including lack of protection for polar bears and funding for "clean coal", breaking promises for reform of "faith-based" initiatives, and reinstating military tribunals with prejudicial, substandard procedures designed to create convictions that would otherwise not take place. It looks like it's going to be another long spell of disappointment for American liberals, who are discovering that their trust in the Democratic Party has not been well placed.

Not too long ago, the motto Dissent is the Highest Form of Patriotism became popular as a rallying cry for liberals against Bush. Now, the same phrase may begin to rally liberals against Obama.

I Support Stem Cell Research Magnet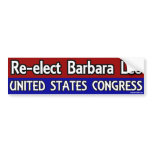 Re-Elect Barbara Lee to Congress



The facts bear out the French and lay bare Bush's deception. Who is the traitor? (For a sticker en Francais, visit http://cafeshops.com/irregulargoods.8488759)