Democratic Presidential Candidates Reject Xenophobia of English-Only
In the NPR Presidential Debate of December 4 2007, Democratic presidential candidates were confronted with the sentiment of a North Carolina resident:
We mentioned that we've been taking questions from listeners in recent weeks about this debate, and one is on a small issue that, I think, points to a large concern. It comes from Tally Wilson (ph) of Boone, North Carolina, and her concern has to do with those voicemail automated messages that you get if you call a government office or a business office; the ones that say for English press one, "para Espanol oprima numero dos." She says, "Suddenly we're asked what language we speak in our own country. Will you remove the question about what language we speak when we call any U.S. government office?"
Barack Obama's response:
No. Because there are Spanish-speaking U.S. citizens who may not speak English well, and if they're seeking help, for example, on some vital health care question, or a senior citizen who emigrated here a long time ago and they're trying to get their Social Security check, I don't want them to not be able to get those services.
Hillary Clinton's response:
As Barack said, there are a lot of Americans who are citizens who speak different languages. I represent New York City. I think there's, like, 170 languages and dialects; the city would be in total chaos if people didn't get some services and some, you know, help in the language that they actually understood.
Dennis Kucinich's response:
I was able to defeat an English-only proposal in the Ohio Senate years ago when I pointed out our state's founding documents were in German. We need to have our children learn languages. I mean, what is this fear of the other? Why are we separating ourselves from the possibility of being able to merge with the world? An insular and isolated America doesn't cut it. And so what I'm talking about is rebuild our economy, do it confidently, and encourage the American people to work — to reach out. My political philosophy, I see the world as one. I see the world as being interconnected and interdependent and there being an imperative for human unity. And so we need to reach out, and education is the way to do it. Let's have our children learn languages, and let's grow our economy in a confident way, full-employment economy, jobs for all, health care for all, not-for-profit health care for all.
Christopher Dodd expanded the terms on which to answer the question:
The point is that you need to be, I think, enriching this. Paul Simon, a former colleague in the United States Senate, wrote a book called "The Tongue-Tied Americans." And understanding what I mentioned at the outset of this debate about having to run classified ads to find Arabic speakers at a time after 9/11 is an indication that we need to be talking more about that. And clearly as Joe has just said, this is a source of our wealth and richness of this country. We have so benefited as a result of people who have come here because of religious, political persecution, seeking a better life for their families. This has been a great source of strength for our country. We need to work with it, obviously be practical about it. But this is a source of pride in our country, not something to be talked about in negative terms.
Each of these presidential candidates has avoided the tactic of identifying a scary outsider to demonize, instead approaching the question practically or, in Dodd's case, asking how the country can be made even better by not contracting but expanding our linguistic diversity. (Source: NPR Presidential Debate of December 4 2007)

You're an American. You're an atheist. Show that the two aren't incompatible with this American Atheist T-Shirt, Made in the USA on Black Cotton.



Unitarians respect the positive campaign for change by progressive presidential candidate Barack Obama. Show that support with this Unitarians for Obama bumper sticker.



Peacemonger Magnet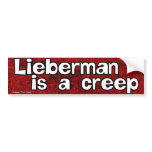 Joseph Lieberman Is A Creep



Durham Votes Blue (bumper sticker)



Dennis Kucinich for President (flag bunting bumper sticker)


Most members of the Democratic Party in America are pretty disappointing, aren't they? It's about time we elected some Kick-Ass Democrats!